Starting Your Own Freelance Writing Business vs. Being An Employee
Things to Consider

Before starting a freelance business, perform a self-assessment. Ask yourself the following 10 questions:
Do I have the right skills and credentials?
Does my portfolio include positive testimonials or references from former clients?
How will I find new and repeat clients?
How will I organize my business accounts (Accounts Receivable, Accounts Payable, and Collections)?
Am I disciplined enough to save money for taxes and emergencies?
How do my rates compare to my competitors' rates?
How will I finance my small business?
Can I obtain health and life insurance for myself and other family members?
What is a reasonable timeline to achieve break-even and turn a profit?
What are my backup plans if I need time off or my business fails?
Setting up a Small Business
Follow the same rules to establish a freelance business that you would use when starting any small business. You will probably start as a sole proprietor. If you are an American citizen or intend to do business in the U.S.A., visit the United States Small Business Administration's Office of Advocacy to get the research you will need for your bank manager: http://www.sba.gov/advo/research/. If you are a Canadian citizen or intend to do business in Canada, visit the Government of Canada's Services for Entrepreneurs: http://www.canadabusiness.ca/gol/cbec/site.nsf/en/index.html.
The first thing to consider is financing. A technical writer needs enough startup capital to fund operating costs for an entire year, in addition to initial equipment purchases, software, office supplies, insurance and licensing fees. If you obtain sturdy used equipment and create your own letterhead, brochures and business cards, then you can start the business for approximately $1,000 USD.
Entrepreneurs generally get their funding through personal money, by recruiting partners in the business, or through loans. Banks, potential investors, and other commercial loaners demand a business plan. Financiers will ask:
The specific loan amount you require
How you intend to use it
How you intend to repay it
What collateral you can offer as security against default
Your business plan provides an overview of your business. It defines the services or products your business offers for sale. It states your business goals over the next five years. Your business plan outlines how your business will operate. A convincing Executive Summary may be the only chance you will have to sell a potential investor on your proposal. A well-constructed business plan contains the following elements:
Overview - Defines the type of business entity and what your business does
Marketing - Explains how your business will attract and retain clients
Business Profile - A complete breakdown of the business' particulars
Analysis - Looks at the competition and how they compare to your business
Management - Resumes and biographies of your business' executives
Finances - Current data and projections of financial gain
After starting a freelance business, it is up to you to maintain the goals outlined and keep the business operating; you will be solely responsible for the success or failure of your firm.
Minimum Requirements
Equipment
The absolute minimum requirements for a home-based technical writing business are:
Computer (a laptop is best for site visits)
High-speed Internet connection
Productivity software, available free at http://www.openoffice.org/
Accounting software, available free at http://quickbooks.intuit.com/product/accounting-software/free-accounting-software.jsp for Americans and http://quickbooks.intuit.ca/accounting-software/quickbooks-freestarter-edition.jsp?location=1&catId=1
&src=ppc&ve=sen&se=google&cmp=Small_Business_EN_NonBranded&ad=Free_Accounting_Software&kw=free_accounting_software for Canadians
Combination fax/scanner/printer/telephone
Tape recorder and digital camera for interviews
Desk, chair, lamp, and filing cabinet
Dictionary, thesaurus, and grammar (basic versions available free online at
Stationery (letterhead, envelopes, business cards, and one ream of 20 lb. white bond paper)
Office supplies (stapler, pens, file folders, stamps, etc.)
Courier account
Style guides and reference manuals appropriate for your specific clientele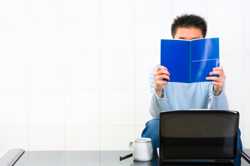 Style Guides
Acquire the proper style guide for the industry you serve and the type of documents you produce. If you do not know the proper style guide to use, visit Diana Hacker's site at http://www.dianahacker.com/ or ask your employer if a house style is in use. The document structure, citations and bibliography you prepare must follow the industry standard, or you will appear unprofessional. For example, if you are writing a psychology manual that requires APA style, do not substitute AP style that is appropriate for the press release that publicizes the manual.
Here are some common style guides available online, but you will probably need to buy at least one hard copy:
License and Insurance
If you intend to interview clients at your home on a regular basis, then you may need a business license or additional liability insurance. Check your municipal bylaws and home insurance policy. If you seldom interview clients at your home, then you will not incur this startup expense.
Networking Tools
Discreetly hand out your business cards at every networking event you attend. Save money by printing your own business cards, invoices and letterhead. Excellent templates are available free at http://office.microsoft.com/en-ca/templates/default.aspx. Choose a simple, conservative style. Leave fancy fonts and bright colors to graphic artists.
Lucrative Add-on
You can make more money if you enhance your documents with your own original photographs. Try to sell your photos for an additional fee, rather than incorporate them into a sale contract that includes all rights. If you do not have a camera or enough time to capture an appropriate photograph, use clipart, available from http://www.istockphoto.com, http://us.fotolia.com/, and http://office.microsoft.com/en-ca/clipart/FX101321031033.aspx?pid=CL100570201033. Do not clip images from the Internet without giving attribution, as this practice is an infringement of copyright.
Working For Someone Else
You may choose to work as a salaried employee of a company. There are three levels of technical writers:
Entry level technical writers have less than one year to 3 years of work experience
Mid-level technical writers have 3 to 7 years of work experience
Senior level technical writers have 7 or more years of work experience
Here are the pros and cons of working as a full-time employee:
Pros
Working as a full-time employee for an established company provides job security. Most companies provide health benefits, retirement options (such as a 401k or pension), and withhold taxes from your paycheck. You may feel a sense of stability by working on a set time schedule.
The tech writer who is an employee usually has a backup during vacation or illness. It is also possible to establish a work/life balance by leaving work at the office.
Cons
Employment opportunities for technical writers depend on geographical location. There are more employee jobs in a large metropolitan area than in a small town. New York and the San Francisco Bay area are major hubs for tech writers. The technical writer who wants to be a full-time employee must be open to the possibility of relocation. (Contractors are not limited by geography because they usually telecommute.)
Technical writers who are employees usually have limited earning potential and lack upward mobility within the company.
The employer sets the hours for employee tech writers. For example, a financial writer who creates stock market reports for the company's Web site must usually arrive at work between 4:00 and 5:00 a.m.
An employee writer cannot refuse a distasteful assignment and most deadlines are not negotiable.
Types of Employers
Many different industries employ full-time technical writers. These include:
Computer hardware companies, which manufacture computer parts, need technical writers to develop installation, user, and troubleshooting guides
Computer software companies, which develop computer software (operating systems, browsers, programs, games, etc.) need technical writers to write user guides, training manuals, Help files, and other literature
Financial institutions (banks, brokerage firms, and mortgage lenders) need technical writers to create customer documents, employee handbooks, business plans, annual reports, etc.
Healthcare institutions need technical writers to develop research reports, journal articles, policies and procedures, patient guides, pharmacy and medical equipment standards, and business reports
Local and federal government branches need technical writers to write documentation for employees and the public
Consumer electronics companies, which make televisions, game consoles, cell phones, digital cameras, and navigation systems, need technical writers to prepare user and installation guides and warranties
Job Search
There are many places online to search for full-time writing work. A good source is http://www.technicalwriterjobs.com. This site has job listings from every state and certain regions within the state, making it easy for job seekers to narrow down their search by geography. Another source, http://www.writejobs.com, is part of the larger Writer's Write, Inc. network and has a small number of job listings. Poewar, an online writing resource center, includes technical writing jobs at http://www.poewar.com/category/jobs/technical-writing-jobs/. The Society for Technical Communication (STC) has job listings at http://www.stc.org. Be aware that many different technical communication jobs are listed, not just writing jobs. Most sites have search engines that make it possible to search for full-time jobs only.
New graduates and experienced writers who are between jobs can contact employment agencies, such as Manpower and Cherryleaf.
Technical writers seeking full-time work, as opposed to freelance contracts, can also use general job search sites, such as Monster.com, Careerbuilder.com, or Indeed.com, in addition to local online job postings (e.g., Craigslist). Be cautious when answering help wanted ads on general job sites, as they are rife with phishing scams. Beware if an employer asks you to complete an unpaid test that entails writing lengthy original content. Reputable companies do require short skills tests that are standardized and are not used for publication.
Most full-time jobs in this field are available at companies that specialize in computers, technology, engineering, finance, healthcare, building, and the sciences. Target the editor or documentation manager to inquire about openings, rather than phoning Human Resources. Cold calling is a very direct approach that requires self-confidence and persistence. Some employers will be very receptive, while others will be dismissive. It is important to persevere through negative experiences.
Develop as many contacts in your industry of choice as possible and follow up on referrals quickly. Ensure that your resume is perfect; one spelling error could cost you the interview. Note the specific skill set desired by the employer and customize your resume for each job application. Be prepared to write online skills tests and participate in a telephone interview before you are granted a face-to-face meeting.
Contract Writing
A freelance writer can either bid on individual projects or enter a long-term contract with a publisher. Contract writing is a hybrid form of work, somewhere between freelancing and working as a full-time employee. A contractor provides writing services to a publisher based on terms specified in a contract. The writer can be paid on a per-word basis or on a per project basis. The latter is usually more lucrative. The writer can be paid "on acceptance" or "on publication". The former ensures a steady stream of income.
The length of the contract can last anywhere from a few weeks to several years. Some contractors work for a third party agency. The agency places the contractor with a client but the agency is responsible for payment to the writer. The contractor has two supervisors: The placement co-coordinator and the client. Some agencies offer limited benefits and withhold taxes, a feature appreciated by many independent writers. Examples of agencies are Manpower, oDesk, and Cherryleaf.
There are several pros and cons to contract work:
Pros
Contractors are typically paid at a much higher rate per hour than salaried employees are. This is because the client does not have to invest money in the contractor for healthcare, vacation, or retirement costs. It is cheaper for the client to pay a higher wage and let the contractor pay the withholding taxes. Contractors enjoy a sense of stability because they know exactly how long they will be employed according to the terms of their contracts. Contracting allows technical writers to enhance their skill sets by working on a variety of projects.
Cons
Just like a single-project freelancer, a contractor does not receive benefits for healthcare or retirement. A contractor must be responsible and set aside money for private insurance coverage (single or family). A contractor does not have guaranteed work past the length specified in the contract. A writer whose contract is not renewed faces down time. A writer who is not proactive about looking for work before the contract expires will have income gaps. If the technical writer fails to meet the client's requirements, then the contract can be terminated.
Job Search
There are many places online to find contract work. A good resource is Technical Writer Jobs at http://www.technicalwriterjobs.com, which lists jobs all over the United States by state and region. Many of these jobs are contract positions.
Tech Writers at http://www.techwriters.com has listings in specific areas, including the San Francisco Bay area of California, but also nationwide. Writing Assistance, Inc., http://www.writingassist.com, specializes in placing technical writers in contract positions nationwide.
Many general job search sites, such as Monster.com or SimplyHired.com, list technical writer positions. It is important to use detailed search criteria, such as "contract technical writer" to eliminate unsuitable positions.
Technical writers who are seeking contract positions benefit from joining the Society for Technical Communications, at http://www.stc.org. This organization is nationally renowned and has many local chapters for writers to join. The benefits include developing contacts, networking, and having access to job listings. The organization can also help direct technical writers to legitimate recruiters and staffing agencies.
A contract technical writer must be prepared to interview at any time. The writer's resume must be free of errors and tailored to each specific job. A technical writer must develop a portfolio of past work that illustrates many different skills. Contract technical writers must adapt to many different work environments and be comfortable interacting with different sets of co-workers. Contract technical writing is a good way to establish a career without getting bored.
---